Today I am going to show you all about profiles! Everything from warning bars, all the way to moods! We'll start simple from the "Side Profile."
The Side Profile and Posts
Every wonder what that section beside a user's post is that shows their username and their avatar? That's called a
Side Profile
. It shows some small information that you can easily read upon a users post. Let's see what is found on a normal post/side profile.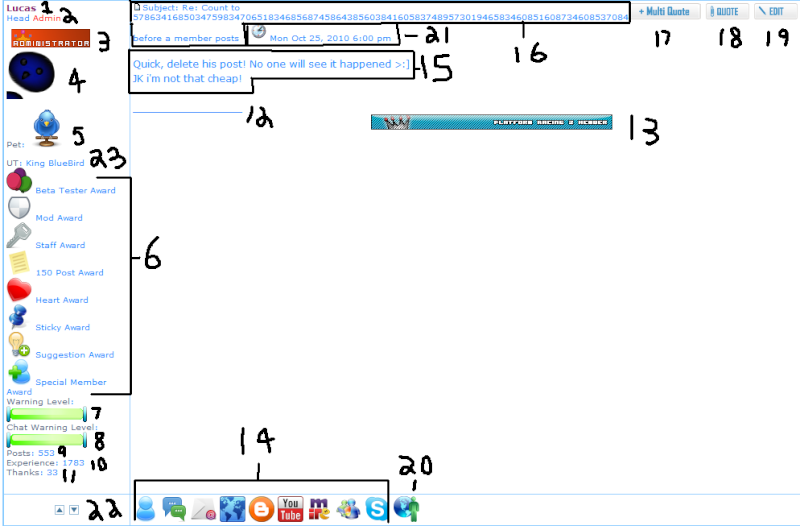 1. Poster's username
2. Poster's rank
3. Poster's rank image
4. Poster's avatar
5. Poster's pet
6. Poster's awards
7. Poster's Forum Warning Level
8. Poster's Chat Warning Level
9. Poster's amount of posts
10. Poster's amount of Experience Points
11. Poster's amount of thanks
12. Signature separator
13. Poster's signature
14. Poster's contact information
15. Poster's message
16. Title of message
17. Multi quote button
18. Quote button
19. Edit post button.
20. Indicates whether poster is online or not
21. Date of post
22. Toggle page up or page down
23. Poster's custom user title
-------------------------------------
Great! You have now mastered the everyday post. But can you master a full profile? We'll see.
The Profile
This is the user's whole, own, customizable profile! It is just a bigger version of the side profile with some additional information.
GOING TO BE FINISHED SOON.